Vidyarthi Bhavan is an old charm eatery located in the hustling and busy Gandhi Bazaar Main Road, Basavanagudi. Transalated to English it means 'Student's Eatery' and is famous for its crispy masale dose. It has been popular with the old timers and continues to be popular with the new generation as well, the huge number of people who wait for a seat whenever you go there is a proof for that.
Living within a small walks distance from this place, I was unaware of it till it was introduced to me by my father. He had lived in this locality for a couple of years around 40 years back and was a regular to Vidyarthi Bhavan. He tells nothing much has changed since then and now except for the taste.The taste he says come down drastically and there is nothing special which warants the huge crowds which one sees here. But whatever it is, he generally manages to visit it once when he is in Bangalore.
I generally avoid going in as I hate waiting for getting a seat, but Aayudha Pooja day presented a half full Vidyarthi Bhavan and I was more than happy to step in to have the famous masale dose.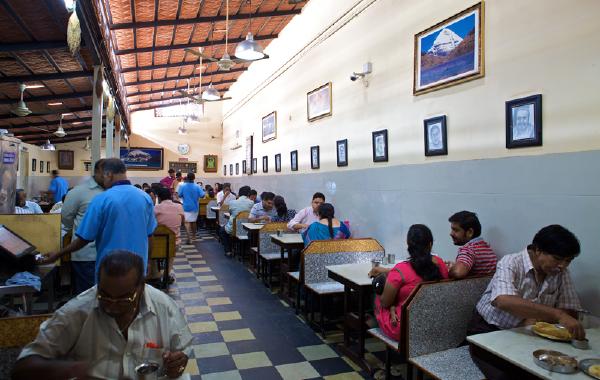 Once in, I had to wait for around 7 minutes for the waiter to come and take my order, this is normal as the waiters do not take orders randomly; they take it for all the tables which they serve in one go. Generally the wait times once you are seated can vary between 10-20 minutes depending on the rush.
Now that I had ordered the masale dose and with no one else in my table the pencil sketches strung all over provided with the perfect way to spend time. After 10 short minutes I could see my waiter bringing around 10-15 plates of Dose stacked one over the other, holding on to them with one arm stretched. This is almost a speciality of Vidyarthi Bhavan.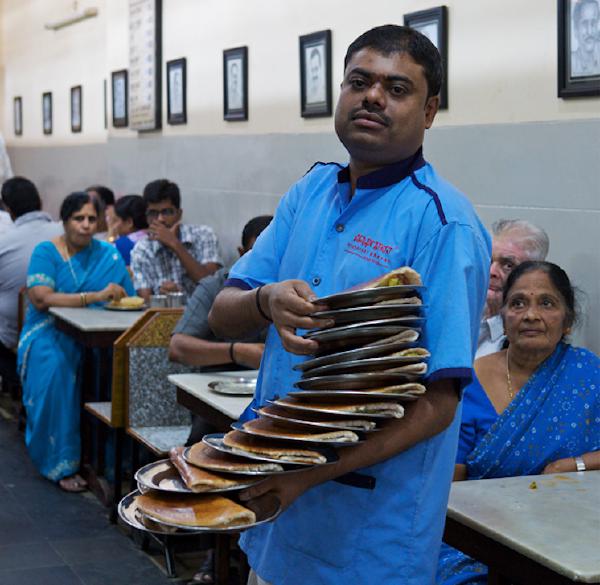 The waiter placed a plate of very hot and crispy Masale Dose on my table and came back again to pour chutney in the plate for the Dose. The Dose is a bit different in taste from the ones you get in other places and was quite good. It being crispy I liked it much more! Once the Dose was done, I ordered and had a filter coffee, nothing special in it though. The bill came up to Rs. 40 (Dose - 30 and Coffee - 10) quite reasonable for such a place.
I would recommended that you visit this place at least once when in Bangalore amd get the whole feel and experience of old time Bangalore. Anyday you come, expect to wait for around 20-30 minutes before you have a plate of Dose in front of you.
Timings
Friday Holiday
Normal Days: 6-30 AM. to 11-30AM. and 2PM. to 8PM
Saturday, Sunday & Govt Holidays 6:30AM. to 12PM. and 2-30PM to 8PM.