Trip Insight
Travel Date: 27-January-2008
Location: Dodda Aalada Mara (Big Banyan Tree) (30 kms from Bangalore).
Mobile: Full network coverage available (Tested on Airtel and Reliance).
Bus: BMTC bus route 227 starting from KR Market (nr Fort) go via Dodda Aalada Mara. There is good frequency. Ticket costs Rs 10/-
About Big Banyan Tree
Located just about 30 Kms from Bangalore is a popular tourist location 'Dodda Alada Mara' which in English is the 'Big Banyan Tree' (BBT). It is spread over three acres and is over 400 years old.
Getting to Big Banyan Tree
This place was chosen since I was in no mood for another long travel this weekend. So since BBT is just 30 Kms away it was a short trip. Started reasonably late and reached the boarding point 'K R Market' bus stand (the one near the Fort). From this point there are plenty of BMTC buses on route 227 which go to BBT. The nearest village is 'Ramohalli' which is about 2Kms from BBT.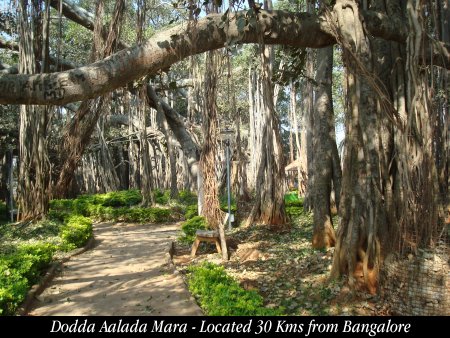 Reached BBT around 10AM and there was no one there. The tree is really huge and the place is being maintained quite nicely under the aegis of 'Bank of Maharastra'. There is a small temple in the vicinity of the BBT. While we were there we were able to about 6 cute little puppies play around and have fun fighting with each other. Since there was nothing much to see here, we wanted to head towards 'Manchanabele Dam' which was about 8+ Kms from the BBT.
We asked the people who were in charge of the place for details like the transportation facilities available to get to the Dam. We found out that there was only a couple of KSRTC buses which while going to Magadi go via the dam. We were also told that the area is not safe when in a small group as robberies are quite common. Also it would be best to go by private vehicle like a bike rather than bus, since they are quite un-dependable. Since only two of us were there, we heeded to their advice and skipped going to the dam.
Visit to Mukti Naga Temple
The only place nearby which we would visit was the 'Mukti Naga Temple' which was just 1km from 'Ramohalli' and about 3kms from BBT. So we took one of the 227 route buses which were heading back to Bangalore and got down at Ramohalli. From here we walked till the temple. Located in the temple is world's largest monolithic statue of Lord Naaga, about 16 feet tall and 36 tons of weight. After offering our prayers, while coming out we could see a lake quite near by.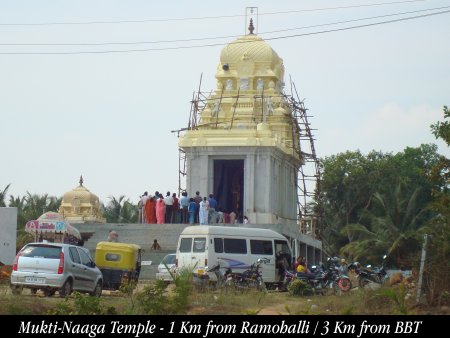 So off we went to it, but as we came nearer we found that there was no actual point where we would sit and enjoy, since all the properties around the lake were fenced. We were not the ones to give up so easily so we trespassed into one of the large properties and tried to get close to the lake, but alas there was no place where we could sit and take rest. After spending some time here we headed back.
Monkey business as usual
When we reached back at BBT around 2:30 pm, we were quite surprised as the place that was quite in the morning was now buzzing with people. And our good old friends whom we have meet on all our trips in and around Bangalore were here too. In case you were wondering who it is……the Monkeys of course….
This time the monkeys were in some mood for adventure, they snatched a lady's handbag and clicked up the tree. Every trip in the book like giving groundnuts, tying a plastic bag on another branch with some eatables etc by the lady and her family to convince the monkey to drop the bag failed. After much playing around, the first object to come down was a mobile phone, and much to our amazement the phone did not break and it was working…..so much for the Classic Old Nokia models. Soon the bag came down, but fully torn in all the place….the handbag was now useless, so they threw it away.
So much for the fun we had watching all this happen….but it was time to head back…..we took the BMTC bus and headed back and reached Bangalore quite soon.
Talking about the expenses….it was quite low…..a Rs30/- daily BMTC pass took me right from the nearest bus stand to Big Banyan Tree and back.